Australia is today ranked as one of the fattest nations in the developed world. The prevalence of obesity in Australia has more than doubled in the past 20 years.
Here is a round up of Australian obesity facts & figures. Of great concern is the health consequence to Indigenous Australians, who are today twice as likely as non-Indigenous Australians to be obese and are ranked the fourth-highest population in the world that is likely to suffer from type-2 diabetes.
Click here to listen to the ABC Radio National Podcast, Recorded 27/11/2017
Gastric bypass procedures (GBP) are any of a group of similar operations used to treat morbid obesity—the severe accumulation of excess weight as fatty tissue—and the health problems (comorbidities) it causes.
BPD SURGERY
This operation combines food restriction and malabsorption.  There are two versions of this procedure, the classic BPD developed by Prof Scopinaro in 1979 and the BPD with duodenal switch  (DS).  These operations provide an excess weight loss of > 85%, but are also associated with potentially more serious long term complications than other bariatric operations and are generally reserved for patients who are super obese (ie: BMI >50) or who have failed other bariatric surgical procedures. 
CONSIDERING SLEEVE GASTRECTOMY?
COMPARE LAP-BAND® TO SLEEVE GASTRECTOMY
Sleeve gastrectomy is becoming a more commonly performed procedure in the bariatric community. You may know someone who is experiencing positive short-term results with sleeve gastrectomy. Some people believe that sleeve gastrectomy can deliver rapid short-term weight loss results similar to gastric bypass, but that sleeve gastrectomy is less drastic and has fewer complications.
What is the LAP-BAND® System?
The LAP-BAND® System is a clinically proven medical device to aid with long-term weight loss. Studies have shown an average excess weight loss of 47.1% maintained at 15 years,1 with either complete control or improvement in obesity related diseases such as type 2 diabetes, sleep apnoea, heart disease, asthma and hypertension, among others. 2-6
How is the procedure performed?
During the 30-45minute laparoscopic procedure, the LAP-BAND® is placed around the top of the stomach; this applies a constant, gentle pressure, and increases a feeling of satiety (a feeling of fullness) on a smaller amount of food, therefore patients eat less.7 Attached to the LAP-BAND® is an access port. The access port sits beneath the skin on the abdomen, and allows the LAP-BAND® to be adjusted to the patients' individual needs. For optimal weight loss, we work with you on a regular basis to ensure you are in the 'Green Zone'. These adjustments do not require any additional surgery, are done in our clinic, and usually taking only a few minutes.
How much weight will I lose?
Patients generally lose around 0.5-1kg on a weekly basis depending on their metabolism and eating & exercise habits, while a recent large Australian study from CORE, the Centre for Obesity Research & Education of Monash University, showed that patients maintained an excess weight loss of 47.1% long-term at 15 years.1
Is it safe?
The LAP-BAND® System has been a proven tool for weight loss since 1994, with over 850,000 patients worldwide.8 Of the current procedures offered worldwide, the LAP-BAND® System is the safest procedure due to it being a minimally invasive procedure, as it doesn't require any removal or re-routing of the stomach or anatomy. The LAP-BAND® is intended to be implanted as a long-term device, however if required it can be removed at any time.
Who qualifies for the LAP-BAND® System?
Patients with a BMI of 35, or 30 with 1 or more obesity related diseases, qualify for the procedure, which usually indicates around 20kg or more to lose.
What is made from?
The LAP-BAND® System is a prosthetic device made from medical grade silicone which is used in many other medical devices such as hip prosthesis components.
How long is recovery time?
The procedure is usually performed as day-surgery, and recovery time is around 1-2 weeks.
Aftercare
Your long term health and weight loss goals are our priority; our dedicated team consists of Associate Professor Peter Nottle, and following your LAP-BAND® procedure your follow-up with us is key to success.
Costs
Most bariatric procedures are covered by private health insurance, but it's best to check with your fund directly as costs can vary. Some patients are able to access a portion of their superannuation to cover the costs of the procedure. Call us for more information, or discuss during your consultation.
How to get the best from your LAP-BAND® - understanding the zones
References
O'Brien PE et al. Long-term outcomes after bariatric surgery: Fifteen-year follow-up of adjustable gastric banding and a systematic review of the bariatric surgical literature. Ann Surg 2013; 257:87-94
Dixon JB et al. Adjustable gastric banding and conventional therapy for type 2 diabetes: a randomized controlled trial. JAMA 2008;299(3):316-323
Dixon JB, Schachter LM, O'Brien PE. Sleep disturbance and obesity: changes following surgically induced weight loss. Arch Intern Med. 2001;161:102-106.
Dixon JB, Chapman L, O'Brien PE. Marked improvement in asthma after Lap-Band surgery for morbid obesity. Obes Surg. 1999;9:385-389.
Dixon JB, O'Brien PE. Gastroesophageal reflux in obesity: the effect of LAP-BAND placement. Obes Surg. 1999;9:527-531 .
Hutan Ashrafian CW et al. Effects of bariatric surgery on cardiovascular function. Circulation 2008;118:2091-2102
Paul E O'Brien. Mechanisms of Bariatric Surgery, 2010
Apollo Endosurgery, Data on File; 2015
The ORBERA® Managed Weight Loss Program is a medical procedure for weight loss that focuses on developing long-term, sustainable, healthy habits. The comprehensive, two-part program starts with a soft, intra-gastric balloon placed in your stomach for six months to encourage portion control. Our team of experts are here to support & help guide you through the process. The second part of the program is very important because it helps you maintain the weight loss. We will work with you to guide you through the process of developing a customised diet & exercise program and support you in making healthy lifestyle choices.
Non-surgical
ORBERA® is a non-surgical, temporary device designed to boost your current weight loss efforts during the 12-month program. While it isn't a permanent device, it allows you to learn portion control and develop healthy changes in your eating habits that can last well beyond the 6 month balloon placement.Placement of the balloon generally takes around 20 minutes during which you will be lightly sedated. The deflated balloon is inserted into your stomach through your mouth, endoscopically. Immediately after the balloon is placed and filled with sterile salt water, you will regain complete awareness and remain in the clinic for observation until the doctor discharges you. The ORBERA® balloon is removed through the mouth in a similar manner, under the same supervised conditions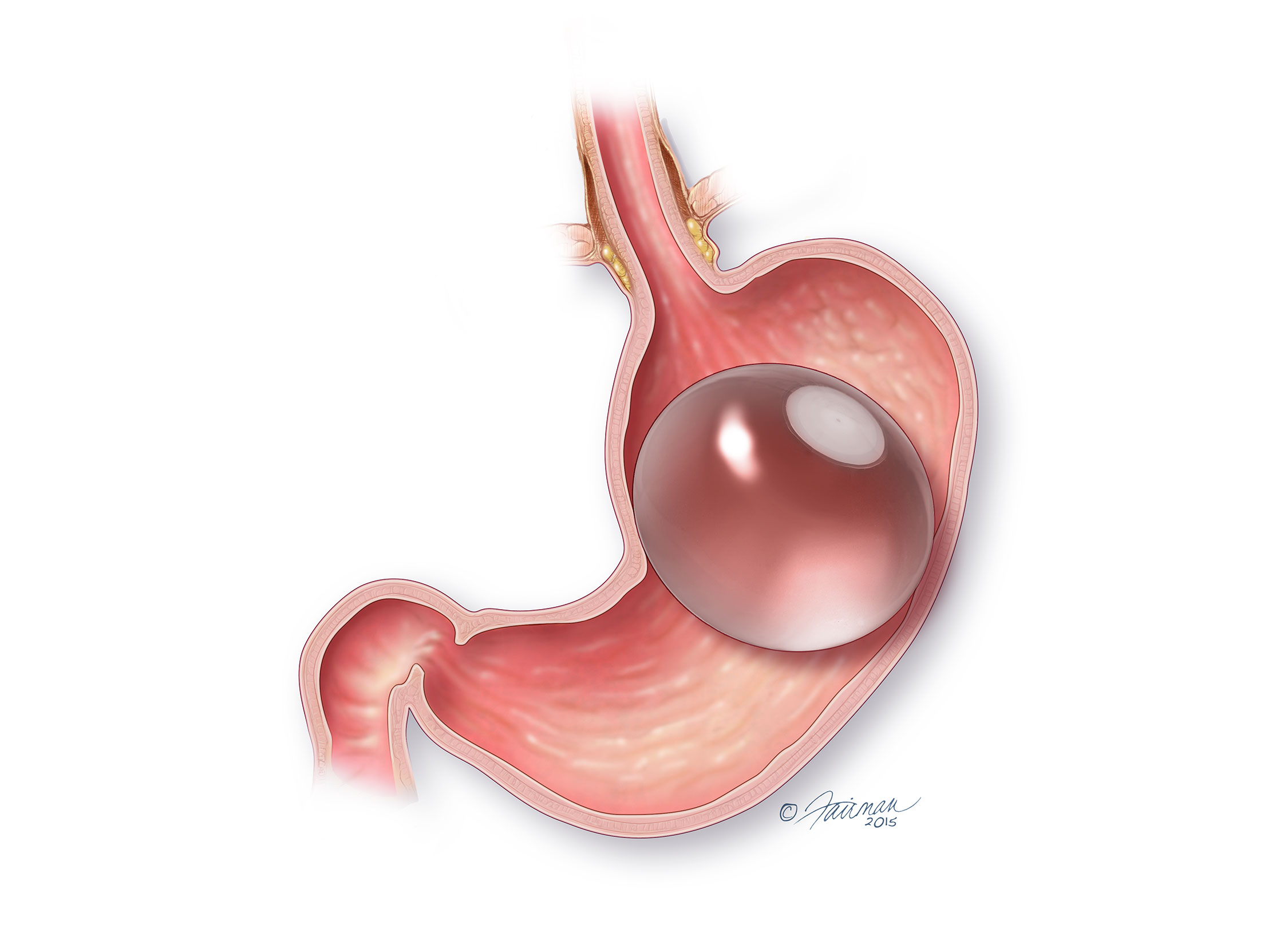 Weight Loss with ORBERA®
Clinical evidence suggests an average of 10-15kg in 6 months, however this is dependent on the patients starting weight and how well they adapt to the lifestyle changes. After 12 months with the ORBERA® two-part program, patients lost over 3 times the weight of diet and exercise alone.
Is ORBERA® proven?
It has been evaluated in over 230 global clinical studies with studies showing an average weight loss of 10-15kg in the 6-month time frame. There has been over 220,000 procedures performed worldwide across 20 years, and with ORBERA®, 70 to 80 percent of weight loss typically occurs during the first three months of treatment, so having a team of experts to help you overcome the challenges of retraining your appetite, adopt new nutritional habits, and establishing a reasonable exercise routine will be essential to meet your long-term weight loss goals.
How does Orbera® compare with diet & exercise, or other weight loss programs?
You can expect to lose 3.1x the weight with Orbera® than you would with diet and exercise alone. Many diet programs are difficult to maintain and you struggle with feeling hungry. With Orbera® you eat smaller meals, because the balloon takes up space in your stomach. You are able to control your eating, learn portion control and make healthy changes in your eating habits. ORBERA® is indicated for a BMI of 27 and above